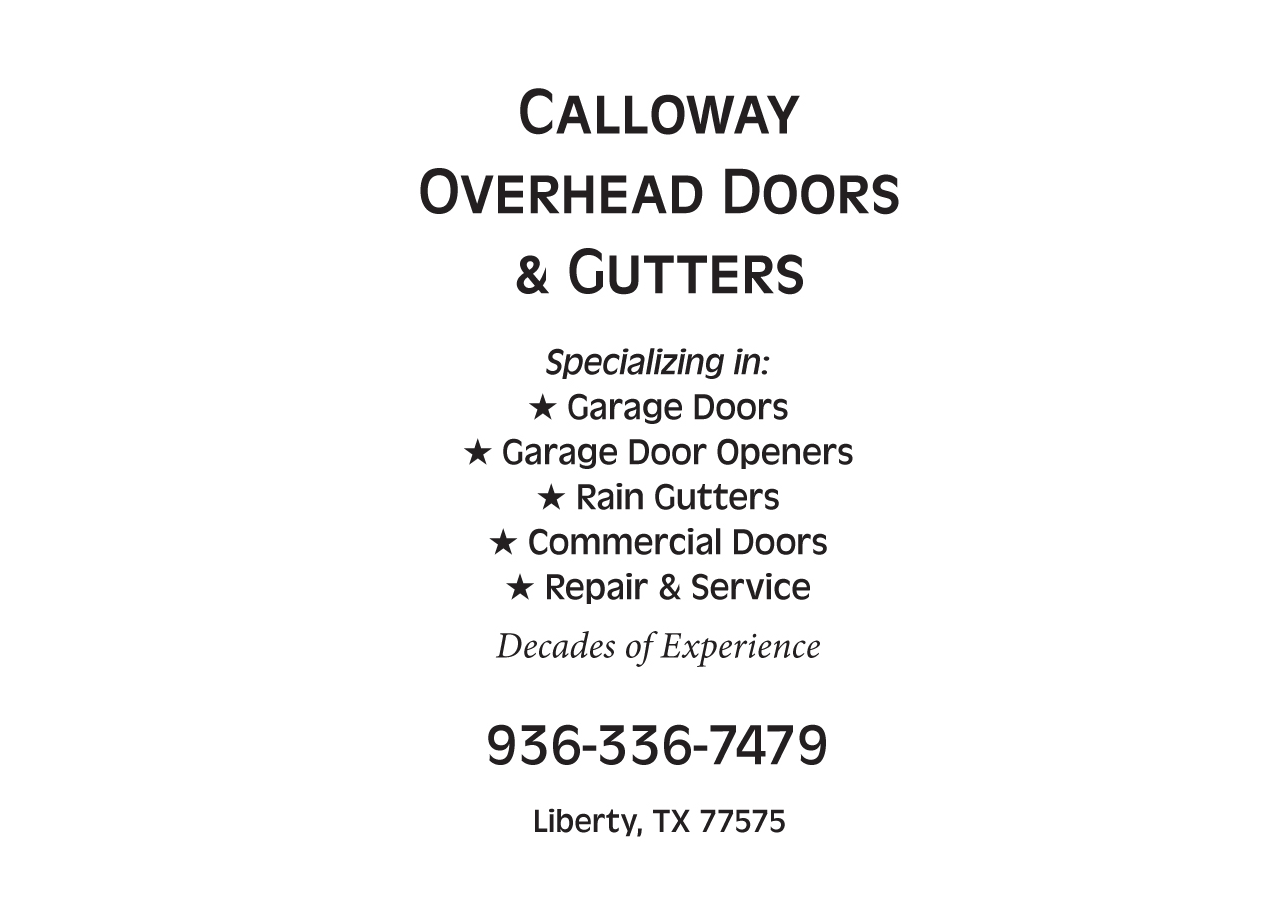 Volume 35, No. 75, Tuesday April 21, 2020
************************************************
Local Economical impact: As the COVID-19 Pandemic drags on, our economy continues to deteriorate. On a recent KSHN.COM Party Line program, Ann Miller of the Dayton Community Development Corporation said unemployment in Liberty county is actually better than in many nearby counties. Ms. Miller said Galveston County has been hit much harder because its economy is so reliant on tourism. Ann Miller of the DCDC said realistically there some local businesses are so badly slammed they may never reopen. The DCDC is working to help local businesses navigate the many executive orders and currently is putting together information packets to help local merchants understand the rules for "retail-to-go" starting on Friday.
************************************************
COVID-19: On Monday, Liberty County got its 27th through 31st confirmed cases of Coronavirus. According to the Liberty County Office of Emergency Management, the 27th case is a female, 50-60 years of age, living in South Liberty County, recovering at home. The 28th case is a female 70 to 80 years old who lives on the south end of Liberty County. That woman is at home recovering. The 29th confirmed COVID-19 case is a male 40-50 years old living in North Liberty County. He to is recovering at home. The 30th confirmed COVID-19 case is a man 60-70 years old from North Liberty County and is in the hospital. Finally the 31st confirmed case of Covid-19 coronavirus is an adult male in North Liberty County from 50 to 60 years of age recovering at home. According to a kshn.com reliable source, the 3 North Liberty County residents all have Cleveland addresses, and the 2 from South Liberty County are said to have Dayton addresses.
************************************************
Food Drive: The community food drive continues for another week. Organizers are delighted with last week's success. Now after an excellent local response last week, that situation has improved but we must report the need is now greater than perhaps ever in history. Here locally - several churches, Rotary, the LISD and others will continue the local food drive asking for nonperishable foods. There are still two drop-off points. Items are being collected in the lunch and schoolwork line at Liberty Middle School, 10 am until noon then 1 till 5 pm weekdays. Or drop items at Liberty Church of Christ 3201 N. Main –that's on Main at the by-pass. Deliveries to the Family Life Building is at the rear of the church. Monday thru Friday 8 am until noon and 1 till 5 pm. When they don't have enough volunteers, donors can also call the Church of Christ at 936-336-2213 for a volunteer. Most needed items: Cereal, Spaghetti, Rice, Beans, Hamburger Helper, Ramen Macaroni, Cornbread, Gravy, Peanut Butter, Jelly, canned items, money donations
************************************************
Music Scholars: Two Liberty High Seniors have been selected as Texas Music Scholars. In a news release, forwarded to us by Choir Director Christie Bean, we learned that Zandrea Carter and Faith Singh were named to prestigious statewide honor by Texas Music Educators Association. That large organization sponsors the Texas All-State Bands, Orchestras and Choirs. This award goes to students who have exhibited outstanding qualities in scholastic merit, musicianship and citizenship in their school and community during the 2019-2020 school year.
************************************************
Obits:
Marilyn Green Lay Till - age 70 – died unexpectedly at home in Oak Island in Chamber County, Born in Mississippi, Marilyn Till was buried in a private graveside service with immediate family, Friday April 17, in the Anahuac Cemetery. Sterling Funeral Home was in charge of the service.
************************************************
Lake Release: 26,200 CFS – Liberty Bridge: 24.51 ASL