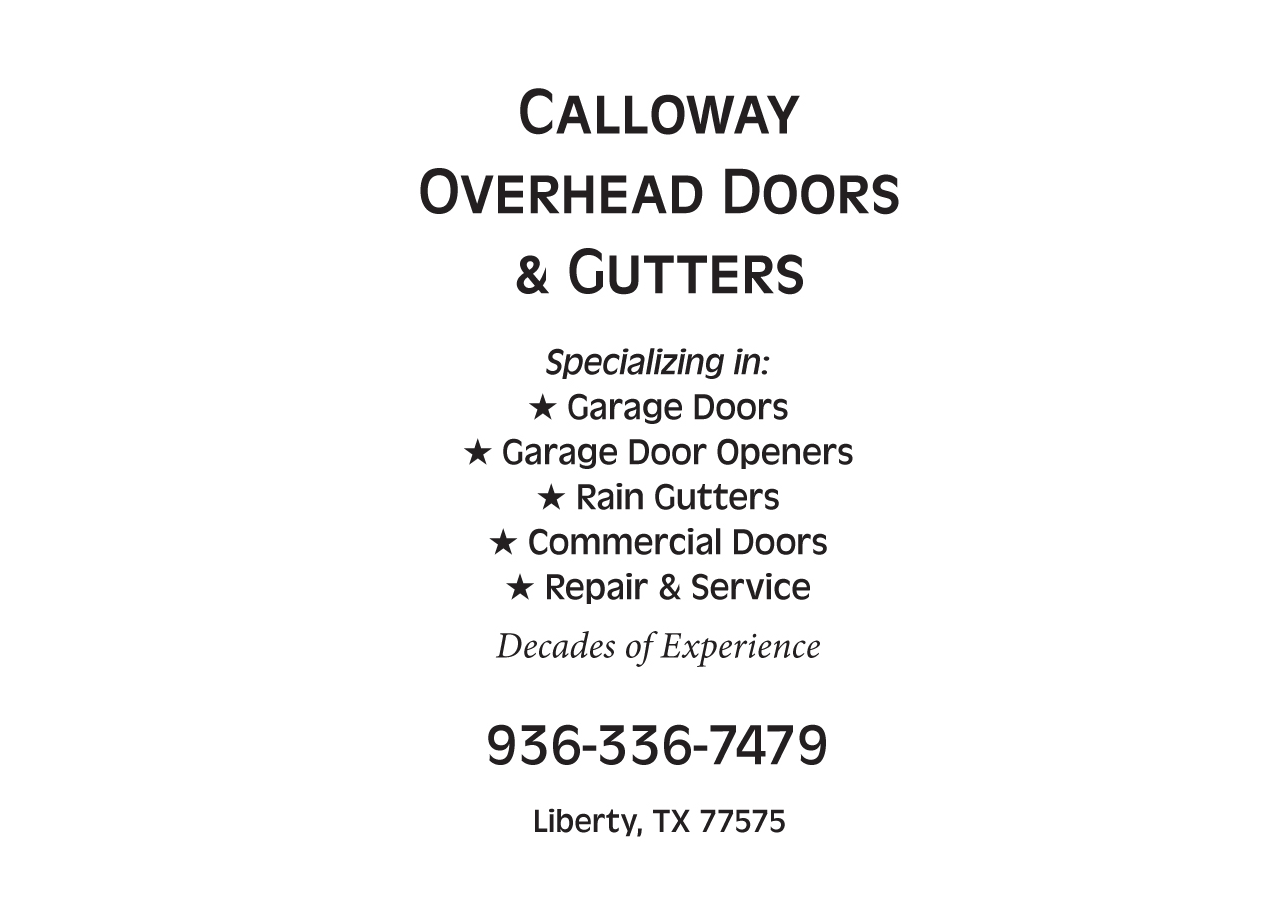 Volume 35, No. 80, Thursday * April 23, 2020
***********************************************
COVID-19: On Wednesday morning, Liberty County Emergency Management officials reported the 33rd thru the 37th confirmed cases of Coronavirus here in Liberty County. We are told by the Emergency Management folks, the 33rd case is a woman 30-40 years of age who lives in north Liberty County and is recovering at home. The 34th case is also a female 60 to 70 years old in the south end of Liberty County. That woman is currently at home recovering. The 35th confirmed COVID-19 case is a male 20-30 years old living in north Liberty County. He also is recovering at home. The 36th confirmed case is a female 70-80 years old from south Liberty County and she too is recovering at home. Finally, the 37th confirmed new case of COVID-19 is a man in south Liberty County, 50 to 60 years of age, and he too is recovering at home.
************************************************
Nursing Homes and Elder Law: Too many times, people get misinformation about moving to a nursing home and what will happen to their estate. Baytown elder law attorney Pi-Yi-Mayo, on the kshn.com Party Line program recently , said many times people hear misinformation from friends, family, or others who are untrained on the subject. Mr. Mayo said it is vital for people to get their advice, not just from an attorney or someone who claims to know the law for senior citizens, but someone who really specializes in the subject. Mr. Mayo urges that we never rely on someone that you are not paying to look after your best interests . He said even those at nursing homes have no fiduciary duty to look out for your best interests. This is a technical part of the law and having someone working for you that works in that special area of the law is essential.
************************************************
Contact with the Lender: In times of economic downturn, many homeowners find themselves tight on money and not sure what to do if they can't make payments on their home mortgage. Brooks Hiller, owner of Heritage Mortgage in Dayton , was a guest on a recent kshn.com Party Line .He said it is crucial to maintain a relationship with your lender. Brooks Hiller said there is a misconception that lenders cannot wait to foreclose on your home if you miss a payment. Actually, Mayo said banks are not making loans so they can foreclose on you, and many times the lenders view foreclosure as a last resort. Brooks Hiller , a veteran mortgage executive, said the most important thing you can do, if you feel you will miss a mortgage payment , is to contact the lender and let them know what's going on and that you may miss a payment.
************************************************
Soccer: On Monday Liberty Soccer team head coach , Joe Roberts , received outstanding news concerning the Liberty Panthers boys soccer team. The 21-4A All District Teams were announced. Angel Ruiz was named the 21-4A Utility Player of the Year. Coach Joe Roberts told us Ruiz's ability to play anywhere on the field made him really stand out to the other district coaches. We have the other Liberty All-District players on our newscast.
************************************************
Obits: A well known Liberty High teacher and coach died suddenly and unexpectedly Monday.
Jesse Wayne Woods –age 38 was hospitalized at Houston Methodist-Baytown Hospital and passed away late Monday night. Jesse will be buried in a private funeral service under direction of Pace Stancil Funeral Home. Leave your thoughts for the Woods family at www.pacestancil.com.
Linda Faye Givens Holbrook, 69, of Stilson passed away Monday. A private family service will be held. Please leave your thoughts for Linda Holbrook's family at www.pacestancil.com.
Dana Ruth Gillen, 91, of Tarkington Prairie. A private family service is scheduled. Leave your thoughts for Ruth Gillen's family at www.pacestancil.com.
Lake Release: 26,200 CFS – Liberty Bridge: 24.59 ASL