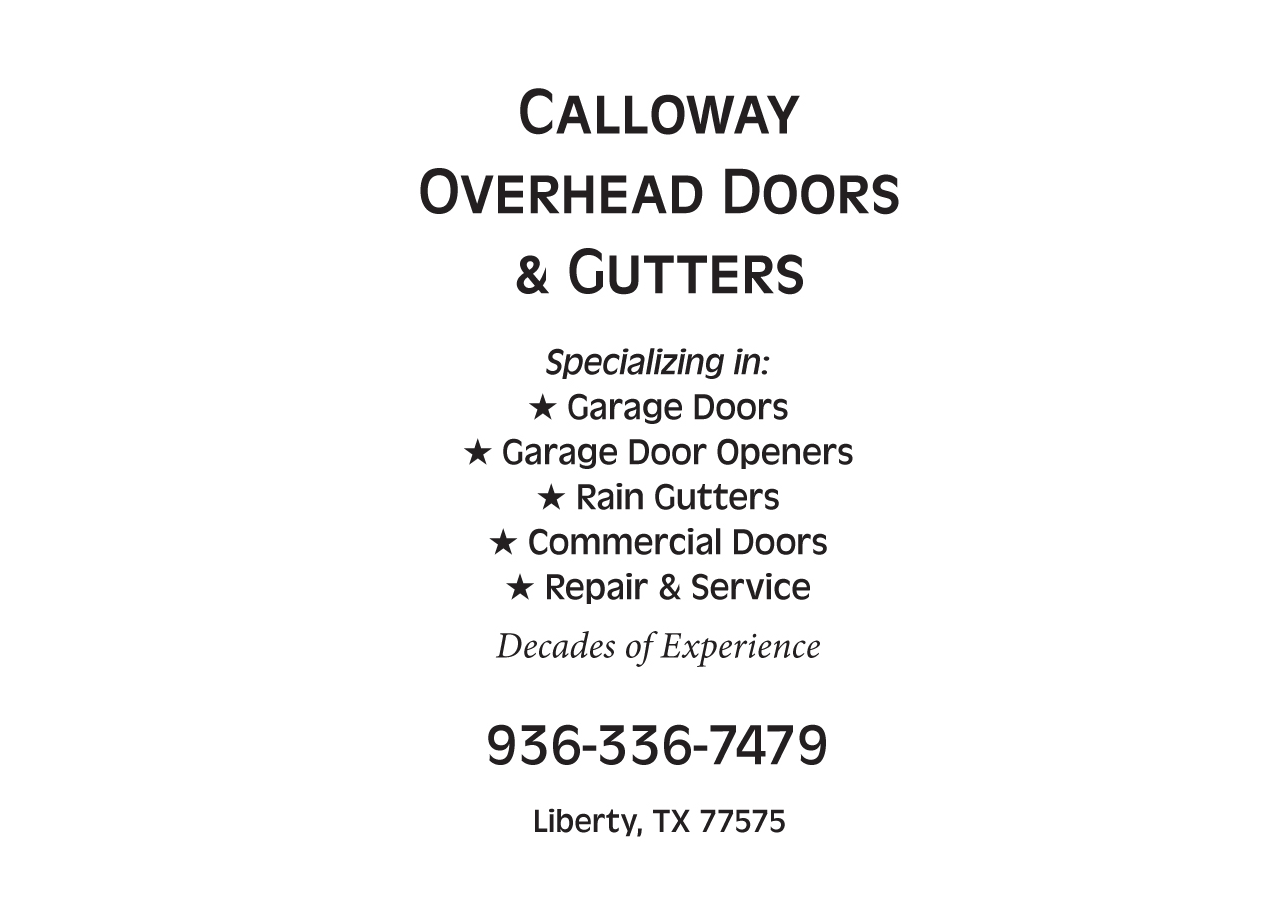 Volume 35, No. 81, Friday * April 24, 2020
***********************************************
Storm Damage: There was extensive storm and tornado damage up in the Tarkington area of North Liberty County .Commissioner for Precinct # 2 Greg Arthur said his crews were out last Sunday to clear numerous roadways from major tree damage. Then those county workers returned Monday to finish the clean up. Commissioner Arthur told us residents in the area said there was a tornado that brought down numerous big pine trees and lots of smaller ones. The worst of the Sunday damage, he said, was in the area of County Road 2285, FM 1008 and State Highway 321. There was lots of tree damage but little or no structural damage and thankfully, said Commissioner Arthur, no injuries. The damage there was not nearly as bad as what has been reported Wednesday on TSN news. That's when major tornadoes slammed Onalaska in nearby Polk County with three fatalities. Those Wednesday tornadoes heavily damaged numerous buildings and there were three fatalities. Polk County Judge Sydney Murphy confirmed the 3 dead, 33 injured and hundreds of buildings either damaged or destroyed. Again that was Wednesday in Polk County while in the Tarkington Prairie area here in Liberty County there was mostly large tree damage on Sunday but with no injuries.
************************************************
Property Appraisals: Most property owners in Liberty County have opened their mailbox and found a notice from the Liberty County Central Appraisal District. Their letter is to report what they believe your property, homes and other buildings are now worth for taxing purposes this year. Deputy Chief Appraiser Jeff Lambright said property tax rates typically do not change that much from year to year but appraised values has increased a bit in those appraisals that most property owners have received. Lambright said if you don't like the appraised value of your home, you do have the opportunity to protest. We'll have a report on that part of the process soon with directions on the CAD's user friendly website , visit Libertycad.com.
************************************************
Sales Tax Holiday: Here 's another reminder on the Sales tax holiday for emergency preparation supplies to begin at 12:01 tomorrow, April 25. The sSales tax holiday is a chance for Texans to buy specific supplies sales tax-free. The sales tax holiday then runs through the weekend until Monday, April 27, at midnight. Texas Comptroller Glen Hegar encourages Texans, when they shop to practice social distancing. Shoppers can make these purchases online, by telephone, mail, or custom order . Those still qualify as tax free as long as the customer pays for the item during that sales tax holiday starting April 25th and ending Monday midnight -April 27th. Delivery can be made after the exemption period has passed. There are no limits on the number of qualifying items a shopper can buy. Eligible tax exempt items include batteries, fuel containers, and flashlights priced less than $75. Also included are hurricane shutters and emergency ladders priced for less than $300 as well as portable generators costing under $3,000. Purchases that do not qualify include batteries for cars, boats and other motorized vehicles. Others not included are camping stoves and camping supplies, as well as chainsaws. To get more information to online to comptroller.texas.gov
************************************************
Obits:
Rebecca Ann Ayres age 60 of Chambers Co. Graveside service today -10:30 am at Anahuac Cemetery (SFH). ***
38-year old Liberty native, Jeremy Dale Williams, of Houston passed away unexpectedly on April 16. Graveside service will be held on Saturday, April 25, 10 am at Cooke Memorial Cemetery - Liberty (AFS).
Lake Release: 26,200 CFS – Liberty Bridge: 24.65 ASL